CELEBRATING OUR 17th ANNNIVERSARY...
WELCOME TO SCARBOROUGH RANGERS YOUTH SOCCER CLUB
RANGERS NEWS
Summer 2016 Outdoor Season Starting Soon ...


In Scarborough:
Early Registrations: April 23rd, 30th, May 7th
- Henry Hudson Senior Public School,
- 350 Orton Park Rd,
- South of Ellesmere Rd on Orton Park Rd.
To Join Please Call:
Head Coach Anton @ 416-937-9900
Head Coach Assist Shan @ 905-471-1637


We have moved from Ellesmere Rd and Neilson Rd due to the renovation of our fields. We will be back here next year.



Proudly affiliated with Scarborough Soccer Association and Ontario Soccer Association
Scarborough Ranger Youth Soccer Club is an non-profit and educational organization whose mission is to foster the physical, mental and emotional growth and development of youth through the sport of soccer at all levels of age and competition. Our job is also to make it fun, and instill in young players a lifelong passion for the sport.
May 17
Scarborough Rangers' 2016 - Outdoor Practices Begin
Early Registrations: April 23rd, 30th, and May 7th, 2016 (1:00 PM to 4:00 PM) @ Henry Hudson

We are starting yet another season of outdoor soccer for the development of youth of all ages. Please join us in attaining our goal of physical development with some fun and soccer skills.

We have qualified coaches with good experience to make you a great player. Not only do you learn soccer techniques and strategies, but you will learn a high level of discipline and respect as well.

2016 Schedule and Brochure

Our Registration Form

Participation Agreement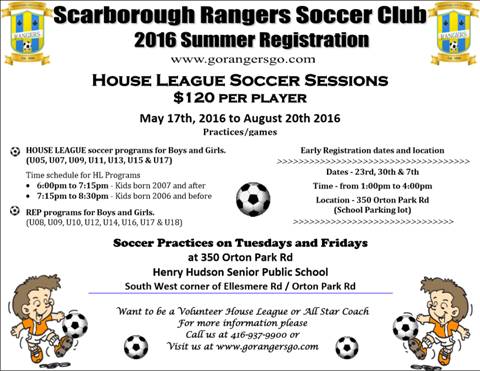 House League Practice Location: Scarborough;
Henry Hudson Senior Public School,
350 Orton Park Rd. (South of Ellesmere Rd on Orton Park Rd.)

Included with Registration Fee: Uniform (Jersey, shorts & stocking), Soccer ball, Picture, Trophy, Soccer Training & lots of fun!!

Parents - Please arrive 15 minutes early and stay until practices and games are done to pick up your kids.
Aug 20
Scarborough Rangers' BBQ Day
The Scarborough Rangers' 2016 Summer BBQ and fun day is to finish off our season with some games for the parents and kids.

Lots of Sports and Soccer Awards

Date: Saturday, August 20th 2016 at 10:00 AM
Location: Neilson Park
All registered players get free BBQ and a Trophy

To Advertise on our website please call coach Anton @ 416-937-9900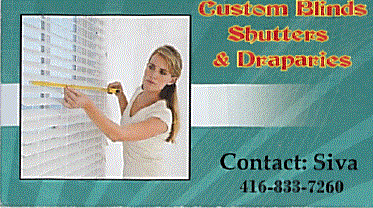 ..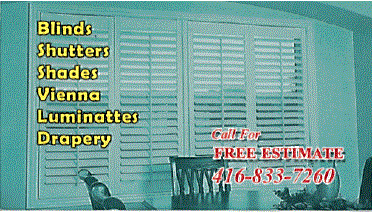 ---
UPCOMING EVENTS:
hy